How to Stop Legs Becoming Too Muscular from Running?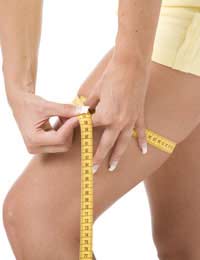 Q.
I run regularly, about 3-4 times a week running approx 6 miles each time on a treadmill, however I have noticed that my legs have become thicker and bulkier which is exactly the opposite to what I wanted to happen. I follow a low calorie and fat diet as I have had weight problems in the past. What am I doing wrong? Should I stop running to lose the muscle?
(S.M, 4 July 2009)

A.
Giving up running is not the answer, as the benefits you get from running far outweigh any negatives, such as thicker and bulkier legs. However, it may be a good idea to take a break from the treadmill and try running outdoors instead.
It has been known for treadmills to cause muscle imbalances in runners because of the way they work. At first glance, it may appear as though the body is being put through the same exertions whether running outdoors or on a treadmill, but there are some crucial differences between the two types of exercise.
When a runner's foot hits a treadmill, it is dragged back by the motion of the machine. There is no need, therefore, for the runner to create his own forward motion. That can mean the hamstring and gluteal muscles are underworked, while the quadriceps, calves, abdominal and hip flexor muscles get a full workout. Running outdoors means using a series of muscles to create forward motion, so the body gets a more complete and balanced workout.
Looking at athletes at the top of the sport can show how different types of running and training can alter muscle size. Sprinters have big, well-developed muscles that can deliver power quickly, while distance runners have more slender muscles that will keep working longer.
When switching from a treadmill to outdoor running, don't expect to cover the same distances as easily. Remember, the hamstring and gluteal muscles will have been underworked on the treadmill and will now be asked to do a lot more. Running outside offers other challenges too, such as hills and the elements, so go easy and build up the distance gradually.
Those unwilling to run outside should not dismiss the treadmill out of hand. It can be a good way to burn fat and is useful when the British weather makes running outside a non-starter. Just be aware that the treadmill offers a different type of workout. There are certain drawbacks, but if a runner is aware of a treadmill's limitations, it is straightforward enough to devise a training routine that will compensate for them.
You might also like...