Orienteering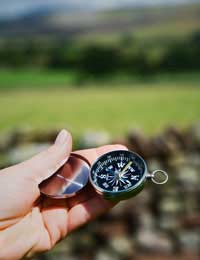 Orienteering is one of those sports that many people feel went out with the 1950s. To them, it's oh so unsophisticated and "Famous Five" in its innocent pursuit of fitness and fun in the countryside. Well, should the doubters care to simply observe one or two events of what is an enthralling discipline, they wouldn't be so cynical.
In short, orienteering involves plotting a path around a pre-designated course using markers. Naturally the winner is the one who comes home in the quickest time, but it isn't all about winning. So, you don't have to be an accomplished runner to enjoy the experience. As a result, the sport is accessible for a range of age groups, and can be enjoyed as part of a family group.
The degree of difficulty of a particular orienteering course is designated by a particular colour code, from white through to brown. The easiest level is particularly good for parents with young children and is likely to involve a route using only pathways, around a local park for example. From there, the challenge becomes greater, from, for example, orange level three which introduces the use of a compass, to blue level 5 which requires a good degree of physical fitness and is one step away from that ultimate brown-designated course.
The British Schools Orienteering Championships is one way in which younger participants can get involved and hone their skills. Their knowledge will be invaluable during family events when they may have to pull mum or dad out of a particularly sticky situation.
Weather Conditions
So what will you need to get started? In terms of footwear, you should be able to use your regular running shoes on the more basic courses as they won't involve off-road surfaces. However, as you progress, the sturdier uppers and soles of trail shoes will provide greater grip and be less likely to suffer damage when the going gets tough. To avoid damage to the legs from bushes or brambles, it is always advised that lower body clothing should extend down to the ankles. The upper body should be covered by one or more layers you would use for regular running, depending on the weather conditions. The addition of a rain jacket may prove invaluable when the storm clouds gather. Add to this kit, a safety whistle and a transparent plastic map case. A compass will also be necessary but not until you reach a certain level. All this can be accommodated in a lightweight backpack that would also benefit from the addition of a first aid kit.
Reference Point
There are many orienteering clubs around the United Kingdom, so finding likeminded enthusiasts and getting started could not be easier. On the web, a good reference point is British Orienteering (http://www.britishorienteering.org.uk), the site of the national governing body which includes a club search engine. It can also be contacted by phone (01629 734042).
Whatever level of orienteering you are aiming to achieve, the sport can offer the potential for greater fitness levels while exercising the mind at the same time. Some courses offer acres of natural beauty that will shake the largest cobwebs out of a townie's mind. So why not plot your route to another exciting way to improve your running ability?
You might also like...