Wearing Shades Isn't Just About Looking Cool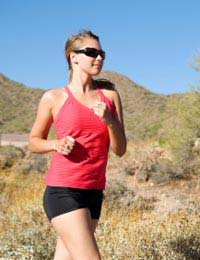 The old sweats who have been pounding the streets and parkways for more years than they care to remember may issue a contemptuous guffaw of laughter, but the increasing number of runners who choose to wear a pair of shades during the summer months is on the increase.
Now, it would be reasonable to assume that a proportion of those opting for Oakley, Adidas or another of the famous names are doing so for purely aesthetic reasons. Let's face it, sportswear is a global industry and draws much of its annual turnover from customers who wear the big brands because they are associated as much with fame and celebrity as they are with the best performers on track and field.
So, yes there are going to be those more concerned about how they look than how their recovery rate stands at the end of a five miler.
Tackling Glare
However to dismiss every runner who opts for a pair of shades as a lightweight, more concerned with following fashion than a schedule designed to bring tangible results in terms of athletic ability, is rather simplistic. Shades are a useful accessory – not only in terms of tackling glare and forming a barrier between the sun's rays and the eyes, but also preventing dust, grit and small insects from causing a sudden painful sensation and the need to stop while the foreign body is removed and vision is restored.
Talking of vision, for runners with less than 20:20 who already possess a prescription, opting to invest in a pair of shades for running means there is no more need to compromise on clarity when on the move. It goes without saying that when running in an urban environment, surrounded by pedestrians, cyclists and cars, such clarity is especially important. An alternative is to wear non-prescription lenses combined with contacts but the potential problem of perspiration running into the eye and causing irritation can be an issue here.
Brands and Styles
With so many brands and styles to choose from, the decisions behind an individual purchase are many and varied. However, there are one or two key areas that should be at the forefront of your mind. Take design, as an example: does the frame of one pair offer a greater or lesser field of vision than another? And what about comfort - is there cushioning on the bridge of the nose? Will the arms guarantee that the pair will fit snugly and not move around once you pick up speed or negotiate rougher terrain? Don't forget the weight of the shades, too: for those not used to wearing glasses on a regular basis, the sensation of wearing eyewear can prove something of a distraction.
Running shades really are a useful item in an athlete's armoury, witness the number of professionals who use them. Ok, you may get the occasional accusation of fashion victim thrown at you, but ultimately it is about what works for you and improves your performance. Chances are you won't catch any of those unfortunate remarks as you will be too far ahead to be within earshot.
You might also like...