The Women's Running Network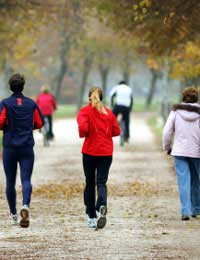 Some women can feel intimidated by running with men, who are often more competitive. Packing in the sport is not the answer, but joining a women-only running group like the Women's Running Network just might be. Running in a group can act as an extra motivation and many women will feel more confident with the safety in numbers.
The Women's Running Network, founded in Devon in 1998, was the brainchild of Peggy Wiseman and Pauline Beare. The aims and objectives are to:
Inspire women of all ages to run for fun, fitness and health.
Give women the chance to participate in amateur athletics at all levels.
Target and support the complete beginner of any ability.
Bring women-only running groups to local areas.
Recruit and train leaders to provide appropriate support to new women runners.
Since its launch, the Women's Running Network has grown from a handful of members in Exeter to a large organisation with groups all over England and in Wales. "The success is based on a simple philosophy - giving all women, whatever their age, size or ability, the opportunity to run together to improve their health, fitness, confidence and safety," said Pauline.
Although the Women's Running Network is affiliated to UK Athletics, it is not a typical running club. For instance, there is no single club night and there is not a single clubhouse. Instead, it consists of locally organised groups that are coordinated through the network. The majority of these groups are in the south west of England.
The Women's Running Network prides itself on supporting the complete novice. The groups aim to be fun, social, non-competitive and open to every age, shape and size. Even unfit women who have never run before can find a starting place at the Women's Running Network. Novices will be given sensible advice, support and company while they run, and Women's Running Network will help them to identify and reach their goals.
Group Leaders
Every group leader at the Women's Running Network holds either a Leadership in Running Fitness or Fitness in Running and Walking qualification gained through England Athletics, and because the groups are relatively small and local, runners get individual attention and their group leader will get to know them personally.
Annual membership is £20 plus a £5 England Athletics registration fee for a competition licence if you intend to participate in events. There are lots of opportunities to meet both socially and at Women's Running Network-organised events that raise considerable sums of money for charity. A quarterly newsletter keeps members up to date with events and offers advice, running tips and information on groups throughout the country. Members also receive a Women's Running Network T-shirt, a training log book, a hand held water bottle and a membership card offering discounts at running shops.
The Women's Running Network's group leaders are as varied as the members themselves, with all ages, sizes, shapes, abilities and experience levels represented. What all these leaders have in common is a love of running. Those interested in becoming a group leader must enjoy sharing their knowledge and experience of running, be patient, value a complete beginner as much as anyone in their group and delight in the success of others.
You might also like...
Do you have a club in the Swansea area?
Sara Davies
- 19-Jul-22 @ 10:24 PM
Do you have any clubs in the Swansea area?
Sara Davies
- 19-Jul-22 @ 10:24 PM
Hello, do you currently have any groups in Torbay? Many thanks.
Ria
- 12-Jul-21 @ 10:33 AM
Hello Is their a group in Whitstable or close by.
Jane
- 11-Feb-21 @ 10:22 AM
Is there a female running group in Swansea, I used to attend one but it ceased and am wondering if it has started
Hi is there a group near Eastbourne I'd like to start running with a group I am a beginner and have been trying to run on my own
Mel
- 14-Jul-20 @ 11:37 AM
Hello, I'm looking for a supportive running group in Crawley, west ex for women.. I've been running for less than a year, started running at 62.
Nannyanne
- 26-Nov-19 @ 12:44 PM
Hello, I'm looking for a running group in Exeter that I may be able to join in with. Daytime is also possible. Have done a bit of running in the past, but not much for the past couple of years.
Mandy
- 9-Nov-19 @ 10:17 AM
Please "were do you run from I am 47 and want to start runningI work Thursday Friday a sat I need to get motivated again and so many people sear buy running I used to run but life took overso I now want to take time for me . I would live to hear from you thanks Rosie.
Rosie
- 24-Oct-19 @ 7:57 AM
Is there a women's running club in or near Cardiff- beginners level.
Linny
- 8-Oct-19 @ 9:01 PM
Hi, I prefer running with others.Please could you let me about any women's running clubs in and around Lancashire. Thank you Clare
clara
- 22-Jul-19 @ 4:08 PM
Do you have any beginner clubs in the dunvant, killay or gowerton areas?
Chrissy
- 22-Jul-19 @ 7:48 AM
Hi there I am a beginner and would like to join a group local to teignmouth. Does anyone know if the nearest group to me? Thanks!
Lisa
- 3-Jan-19 @ 9:47 AM
Hi Are there any clubs in Exeter for relative beginners please. Many thanks Tracy
Hi. Is there anything in the Torbay area? Many thanks.
Jessica
- 26-Nov-18 @ 8:02 PM
Hi, also trying to find out if Swansea groupsstill going? Thanks.
Tammy
- 7-Oct-18 @ 2:01 AM
Hi I live in the Wolverhampton WV8 area and wondered if you have any activities running close to me please? Thank you Rachel.
Rach
- 3-Sep-18 @ 6:52 PM
Hi Vic. Try Potters Trotters. They used to meet at Northwood years ago, but now meet at Staffs Uni on Tuesday and Thursday. They have a beginners group starting in September. Very friendly bunch of ladies.
Ali
- 30-Aug-18 @ 11:04 AM
Is there a beginners club in Torquay for women over 50
Cathryn
- 31-Jul-18 @ 5:36 PM
Is there still a group in Dawlish (S Devon)? I used to run with WRN ca 10 yrs ago here (leader was Sarah, who was a real inspiration), and am keen to start up again. How do I find my nearest group otherwise? Thanks :)
VikingMermaid
- 26-Jun-18 @ 7:55 AM
Hi, Any running clubs in stoke on trent? Northwood area? Trying to rehab and lose weight after slipped disc surgery last year.
Vic
- 13-Jun-18 @ 9:20 PM
Is there. A group in Exeter still and when and where do they meet please
Bigsare
- 2-May-18 @ 9:34 PM
Hi. I ran with WRN over 10 years ago and was registered with UKA. I am now trying to join another club. Can my link to WRN be removed please ? My new club are not able to register me. Any help appreciated
Verity
- 22-Apr-18 @ 8:02 PM
Ha, ha - predictive text!Passing my message on - thanks
JanieN
- 7-Apr-18 @ 12:23 PM
Hi there I'm looking to reconnect with the Swansea group but can't find the details. Any chance of either padding my message on or letting me have their details. Thanks. Janie
JanieN
- 7-Apr-18 @ 12:22 PM
Thank you Miss A have you looked at Paul Popham running club? Looks good for beginners.
Caroline, I'm waiting for info back from LC
MissA
- 31-Dec-17 @ 10:31 PM
Hi Jackie and Miss A have you found a beginners running group? If so would be interested if you could pass on the details as I am interested in getting fit.thanks Caroline
None
- 31-Dec-17 @ 7:29 PM
Looking for contact details for general running groups in Swansea. Thanks
MissA
- 31-Dec-17 @ 2:25 PM
I would really like to get fit and am interested in joining the running club. I livein Swansea area and am a beginner . Please help ! Jackie
Jackie
- 18-Nov-17 @ 7:22 AM