Street Running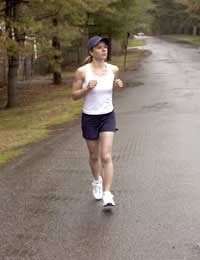 Striding purposefully past your fellow pedestrians, head held high, is one of the first and great natural highs to be gained from running around the neighbourhood. Suddenly, everyone else appears to be moving in slow motion. Familiar faces, familiar places are suddenly flashing past. You feel healthier, fitter, more in control.
But before it all becomes too much and the theme from Chariots of Fire is keeping pace with your every stride, remember that roads mean traffic, so you are going to have to be switched on, ready to alter your pace, and even slam on the brakes and run on the spot while you wait for the cars to pass.
Warming Up
It may be inconvenient but it does instil mental discipline into your running - there's no retreating into yourself as is possible when running inside on the treadmill.
Street running will bring you into contact with a range of surfaces: concrete, asphalt, grass. They differ in terms of the amount of give you will experience under foot which means your rhythm will be disrupted - the softer it is under foot, the heavier your stride will feel. Of course, ideally you would want to be running on grass the entire time simply because it will be more sympathetic towards both the calves and knees, but a heavy downfall an hour or so before you plan to run could turn the grass into mud, rendering it useless as a running surface and disrupting your schedule.
So both concrete and asphalt have their uses in wet weather. Just don't over expose your muscles and joints to them, ideally no more than twice a week.
When planning a course, try to start and finish around a quarter of a mile from home, rather than dashing out and in through the front door. A brisk walk both before and after your run will provide the opportunity of warming up and warming down. Stretching exercises are essential but as supplementary preparation, nothing beats a walk for getting the leg muscles in the mood for a good work out.
Run the Course in Reverse
While familiarity is not to be underestimated in terms of both knowing your course and how you should be feeling at a certain point on it, there is always the danger that it can make the run feel more like a chore, or you can even become complacent because you have conquered it so many times before. The easiest solution in this case is to simply run the course in reverse, so, for example, the downward slopes in the road you usually breeze down in the first half mile suddenly translate into a testing uphill climax to your run. Invest in a stopwatch and see whether you run one way quicker than the other. Suddenly you have added a new dimension to a course that was becoming mundane.
Pavements offer runners plenty of mileage, so routes can be modified or extended. This means you can easily alter or intensify your schedule. And if work leaves little spare time in which to exercise, there may always be the option to run to and from the office. Perhaps, even to or from the supermarket. Just be careful about what you buy - you don't want to open you backpack to find you already have the beginnings of an omelette swimming around the bottom.
You might also like...