Long Distance Tips From a Marathon Runner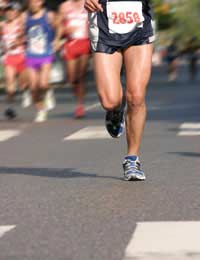 Running a marathon for the first time can be a daunting prospect. The length of the race can be mind-blowing for some, while others can be put off by the tough training schedule.
Experienced runner Simon Walker, a car mechanic from Bolton, has run marathons on three continents and has collected a wealth of knowledge that can help runners to the finishing line.
Tips For Marathon Running
Question: Long training runs can be really boring, so what's the best way to keep them interesting?
Answer: "Find a training partner, preferably someone of similar ability, to relieve the boredom. If no-one is available, try varying the training route or listening to music."
Question: Is there a way to make the marathon race distance feel less daunting?
Answer: "Split the race into manageable chunks of five miles or five kilometres. This will help you feel you are making progress."
Question: A lot of runners talk about 'hitting the wall', but what does that mean?
Answer: "It's just the terminology runners use for fatigue. Runners become sluggish and light-headed, co-ordination and balance start to go, reaction time slows down and concentration dwindles."
Question: So how do you avoid 'hitting the wall'?
Answer: "Well, the main cause of fatigue is the body running out of carbohydrate fuel stores, so be sure to start the race on a full tank of carbohydrate fuel. Dehydration can also result in fatigue, so start the race well hydrated too."
Question: How much water does the average runner need to consume during a marathon?
Answer: "It's important to be careful about the amount of fluid drunk when running a marathon. The general rule is that for any exercise that lasts more than an hour, drink between 150 and 250 millilitres every 15 minutes to replace lost fluid. That would mean the average marathon runner would need to drink between two and four litres of fluid. Try to drink smaller volumes more frequently to minimise stomach discomfort. Beginners taking a long time to complete the marathon shouldn't drink large amounts frequently to avoid over hydration."
Question: What is your top tip for race day?
Answer: "Runners should shower and soap down on the morning of the race. This will remove body oils and help the body stay cool, which is important to prevent premature dehydration."
Question: How long a warm-up should a runner allow for before the race starts?
Answer: "There is no real need to warm up – just use the opening miles as a warm up. Be sure to leave enough time to get to the start without wasting energy in nervous tension worrying if you'll be there on time. Then just keep to your own pre-race ritual."
Question: What's the best way to recover after a marathon?
Answer: "Try to consume food and fluid straight after the race and, if possible, have a very light massage. It is best to avoid running for a few days to allow the body to recover fully, although it is okay to go for a walk, cycle or swim. Arrange to have a heavier massage three or four days after the race.
You might also like...