Marathon Training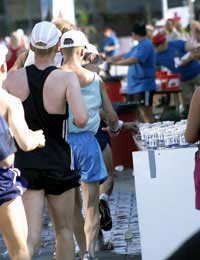 Such is the level of organisation attached to marathons, that once you have signed up to the run, it is likely that there will be a support network in place to offer both advice on training and nutrition, whether you are a newcomer to running or a regular on the road.
Any programme should be tailored to individual needs, not least in terms of how it dovetails with daily commitments in terms of family and work, with the average schedule spanning between four to five months.
There should be three basic categories built into the schedule; short, medium and long distance runs which will build speed, stamina and strength, along with designated rest days. The latter are as important as the activity days because pushing yourself too hard is not only putting yourself at risk of injury but also draining psychological reserves that sometimes are the difference between battling through a motivational blackspot and losing the will to carry on training.
Forthcoming Challenge
The first few weeks of training should contain more rest days than activity days because your body will only respond positively if it is allowed to take things at its own pace. So from running perhaps twice a week, graduate to three times and so on, but only up to a maximum of five. Even when you are deep into your training, always build in two rest days, particularly towards the end when you may be running several distances of around 20 miles, to prepare your body physically and mentally for the forthcoming challenge.
In terms of the short runs, these should be of around 20 to 30 minutes' duration with the accent on upping the pace, not only introducing speed development into the equation but ensuring that despite the relatively short amount of time of activity, the body is still receiving a thorough work out.
Medium distances should be of around the 10-kilometre mark, again at a faster pace than the longer runs but with the focus on performing at a brisk but steady rate. As mentioned previously the longer runs will be developed up to around the 20-mile mark, the focus in this case being on building both stamina and the ability to deal with longer and longer distances.
Mental Fatigue
Mixing up these distances over the training week will also make for variety, an essential component in combating mental fatigue, retaining a fun element to training so that it doesn't develop into a chore.
Just as you have been building up both body and mind in terms of strength and stamina over the weeks, be sure in the final week to wind down so that you have plenty in the tank come race day.
Finally, don't forget that nutrition is a vital part of preparation, so ensure that you eat a balanced diet of carbohydrates and protein, and that you are replacing both lost sugar and salt. Always eat both before and after exercise, and never think that skipping meals will result in weight loss and better performance. Without the right amount and quality of fuel, your body is not going to perform.
You might also like...