Weights and Running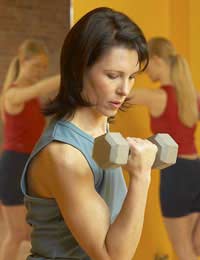 The image of weight training in the imagination of most people is a gym full of heavy-set men, eyes bulging with the strain and veins popping out from every conceivable muscle group. Many runners also adhere to this misconception, believing that their ability and technique can gain nothing from lifting and crunching.
However, you don't have to put on bulk in order to enhance your running ability. Indeed, that is the last thing that you want to be aiming to do. You don't have to be an anatomical expert to realise that heavy muscle development will do nothing to aid smoothness and speed on the road.
However, repetitions using both free weights and machines targeted at specific areas can improve posture, increase the efficiency of muscles and reduce the risk of injury.
Cardiovascular Exercise
While weight training benefits runners of all ages, it can be particularly beneficial for those of middle age because as the body gets older, muscle mass begins to deteriorate.
For a start, weight training is a good form of cardiovascular exercise, so the engine room of heart and lungs is going to benefit. Bench presses based on the number of repetitions rather than the heaviness of the weight are going to provide increased strength in the arms and shoulders, and get the chest working, too.
Abdominal work, perhaps using a weight when completing sit-ups, will help strengthen the back. This will not only improve posture but mean that towards the end of a run or race when fatigue begins to take its toll; there is more chance that your technique will not be affected because the back muscles are beginning to feel the strain.
The leg muscles and knees should be targeted using a series of repetitions on the leg press. Not only will this build up the muscles in the calf and strengthen the hamstrings, enhancing performance and preventing injury, but the area around the knees will be more capable of supporting them, thereby guarding against runner's knee.
Personal Trainer
It is possible to invest in some equipment to complete the necessary circuits at home, but it is far better to head for the gym. Not only will the range of machines be more comprehensive, but there will be personal trainers on hand to not only guide you through the right machine for working on a particular muscle group but also the correct technique. They will also be able to draw up a personal programme specifically designed to bring the results that you require.
Outside of the gym, some runners use hand or ankle weights, sometimes both when they are on the move. Some find them beneficial while others believe they can put too much strain on specific areas and impair technique. In this case, it is very much down to individual choice.
If you are looking for an overall workout when you are running, or want to push your body a little harder over your usual course, then a weighted backpack may be an economical solution. However, remember to ensure the straps are padded and it is tightly secured to prevent movement while in motion.
You might also like...