Apps That Promise Faster Laps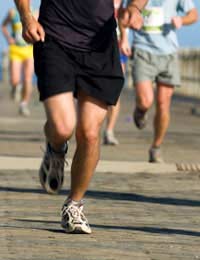 Where once tracking performance and offering encouragement was down to the grumpy guy or gal in the baseball cap shouting from the side of the track or positioned on your shoulder, now all a runner seemingly needs is one of the burgeoning range of apps for their mobile. Who needs a coach that lives and breathes the sport when the virtual variety is only a download away?
The promotional material talks of global positioning systems, distance tracking, pace and calorie burn indicators, along with features such as programme settings designed to get you up to speed for a specific discipline, such as a 10k or a half-marathon. Depending on the individual programme, your performance may also be analysed as to how it rates against previous efforts. All this is happening on the unit sitting snugly in the lightweight holster strapped to your upper arm.
The good news for those interested in purchasing an app (some lite versions are available free of charge) is that they are relatively simple to get to grips with. And given how quickly their presence has registered with the running community, there is bound to be no shortage of fellow club members or workmates who will be able to answer any queries you may have.
Advanced features
There is no pressure that comes with an app, either. If you want to keep things at a leisurely pace rather than utilising some of the more advance features, well then that's your choice. In short it can do as little or as much as you want.
It doesn't require you to carry any additional equipment, either, but operates via the unit that already allowed you to stay in touch via voice- or email, or supplied the musical backdrop to your training regime, so you won't be weighed down by the hardware.
Relevant information
So what's not to like about running apps? Well, nothing in particular. However, it is the impersonal nature of them that could deter some people from downloading. Many runners may find that such technology is no substitute for the input of a coach made from flesh and blood; that while an app may supply you with all the relevant information to make informed decisions on your performance and future development, it is not going to provide you with the verbal kick up the backside or arm around the shoulder that even the most focused of individuals sometimes requires. Let's face it, when the going gets tough it is much easier to turn off your phone or discontinue consulting the app than it is to turn your back on your coach and risk a rollicking.
And it is worth remembering that some of the sport's greatest exponents were breaking records and putting in fantastic personal performances long before such technology came along.
In the end, it's down to personal choice: some may swear by their app; others may prefer more traditional training methods. But whichever path a runner chooses, only their physical courage and appetite for hard work will decide how far they go in realising their running dreams.
You might also like...