Buying a Treadmill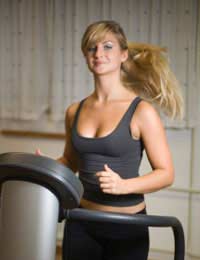 Whether it is a case of convenience or simply because an individual feels rather self-conscious exercising in front of others, installing a treadmill at home has become increasing popular in the past 20 years. The trend has also been driven by the availability of equipment, too, as anyone with access to the internet will discover by typing the magic word into a search engine.
With some of the more sophisticated and larger models, space is obviously going to be a consideration. Not only will you need a room big enough to accommodate the machine itself, but it should have good ventilation to prevent you getting hot and bothered before you've got into your stride. It's also advisable to site the equipment on the ground floor as there are not many insurance companies that would take kindly to paying out for an upstairs floor that buckled under the weight of man and machine. If any of the above represent a problem, fold away versions are available, although they are not as sophisticated as permanent models; they won't be as sturdy either, which means they won't be able to withstand a pounding over a long period, necessitating investment in a new model.
Savings Come at a Price
For those worried that a motorised unit is going to run up an electricity bill that wouldn't look out of place appearing in the mailbox of the average leisure centre, manual versions are available. Unsurprisingly, these have the added advantage of being at the cheaper end of the market but the savings come at a price. Most people's initial experience of a treadmill will have been at a gym, where motorised versions allow for a set speed to be programmed into the machine prior to setting off. This means that the runner can ease into their stride as the machine's belt comes up to the required speed and can then settle down into a rhythm. A manual machine, by definition, requires the pushing action of the runner's feet against the belt to initiate movement, potentially putting undue stress on both the hips and knees. In turn, the speed of the belt is dictated by how fast or slow you run, so achieving a constant speed is down to how disciplined you are in terms of stride.
Maximum Speed
Assuming you have the money to invest in a motorised version (they retail from around the £300 mark), an important aspect to consider is the maximum speed. Serious runners will be looking for a top speed between 10-15mph, but if your budget does not stretch to one that quick, then at least ensure the machine you choose has a maximum incline that can compensate for that lack of speed. Otherwise, the fitter you get, the less testing the machine will become, to the point where it is no longer fit for purpose.
If you are looking for a machine on which to do some serious running, make sure that the deck i.e. the belt itself and the frame is as wide as possible. The body is constantly making small adjustments in terms of balance as it moves, and you don't want to be knocking the safety rails with your arms as this will affect your ability to concentrate on the run. The same is true if your feet are occasionally straying off the side of the belt because it is relatively narrow.
Running Ability
The number of different workout programmes the machine incorporates and whether, for example, it has features such as an inbuilt heart rate monitor are also determining factors in how much it will cost. If money and space are not considerations, visit your local gym, talk to the staff and see what manufacturer they have chosen for their machines. Otherwise invest in a machine that is going to be durable and has the capacity to develop your running ability. Otherwise, it will soon join the ranks of redundant equipment that are becoming an all too familiar sight at municipal recycling centres.
You might also like...