Rushing Back Too Quickly After a Calf Strain: A Case Study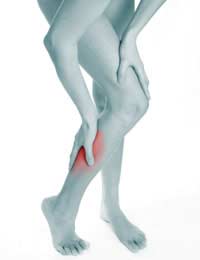 "I remember distinctly when it happened: about 10 minutes into my normal route and it felt like someone had stuck a knife into the back of my lower leg. Initially I thought I had landed awkwardly on the pavement and continued, hoping to run it off but the pain didn't go away. Being pig-headed, I limped around the rest of the two mile route."
What Paul suffered was a classic 'overuse' injury known as a calf strain. In reality, this strain involves a tear in the muscles at the back of the leg that help efficient movement downwards at the Achilles tendon and upwards towards the knee joint.
Incidences of such calf injury vary in terms of severity, however commonsense should tell anyone that rest and recuperation are the bare minimum requirements for getting on the road to recovery. However, Paul let his over-eagerness to be back on the road get the better of him and less than a week later, following some stretching during which he says he felt nothing, he went out again.
"The first half-mile, I felt nothing. But it wasn't too long after that that the pain I felt the previous week began to progressively come back in the same spot. It wasn't that I didn't know I had an injury, it was just that I didn't think it would take very long to heal".
Recovery period
Paul sensibly decided to give himself a longer recovery period but about a week and a half later, still having not restarted his running, the injury manifested itself in seemingly the most innocuous of surroundings. "I was at the supermarket checkout and realised I'd forgotten to pick up some mineral water. There was a queue so I dashed down one aisle, turned right to go up another and that's when I felt what was like a tearing sensation in my calf."
Unwisely Paul did not seek the advice of a physiotherapist but instead stopped thinking about running for two months, instead using an exercise bike and then his own road cycle to keep fit without putting too much strain on the calf.
Recurrence of the injury
It was three months later that he finally went back to running, and one year on has not suffered a recurrence of the injury. That may in part be down to the fact that his exercise regime is no longer centred around running but also takes in cycling and swimming.
The aid of a physiotherapist would have speeded up his recovery from the injury and been very useful in terms of identifying preventive measures. Paul, however, feels he has achieved the latter himself but holds his hands up in terms of realising the injury was the result of not seeking advice on his initial fitness programme.
"In hindsight, I shouldn't have been running so much. That's why the injury happened, I feel. And I certainly shouldn't have pushed my luck by running again so soon after the initial problem. The big lesson I've learned is to train more sensibly and build more rest periods into my programme, to allow my body time to repair itself and recover. It's so frustrating being injured, to not be able to slip on my shoes and go for a run. That is something I think about when I am tempted to add an extra run into my weekly schedule."
You might also like...