How I Ran Into My Wife: A Case Study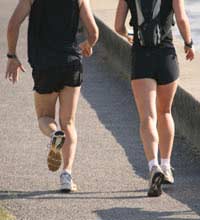 It's fair enough to have high expectations when joining a running club. For instance, computer programmer Trevor Evans expected to improve his fitness, make new and lasting friendships and improve his social life. He didn't expect to meet his wife-to-be, but that is exactly what happened.
"I wasn't very sporty when I was at school or university," said Trevor, a 28-year-old who lives and works in London. "I did well enough academically, but I was always quite skinny. Being honest about it, I suppose I was a bit of a geek!"
"The job I have now involves spending most of the working day sitting at a desk, and I felt I needed more physical activity in my life. When I was growing up we always had dogs in the family and I enjoyed taking them on long walks, but London's not very dog-friendly in my opinion and I didn't like the idea of leaving a dog at home all day while I went out to work."
Friendly Welcome
"So with more than a little trepidation, I decided to go along to a local running club and find out if I had become any less geeky and more athletic with age. What struck me straight away was how friendly and welcoming people were. I was a complete novice and the club had a number of good athletes competing at a high level, yet they were willing to take time to share advice and help get me started."
"As it turns out, I'm not too bad a long-distance runner myself. I have the perfect build for it, I suppose – thin and gangly – and I have plenty of stamina. Don't get me wrong, I'm not going to break any world records, but I have competed for the club in team events and done okay."
"It wasn't just the running I enjoyed; the social side of the club was fantastic. On one of the club's many nights out, I met the woman who became my wife. I'd seen Sue before, at the club and at the occasional race meet, but I hadn't spoken to her until that night. We hit it off straight away and arranged to go on a training run together the very next day. I suppose you could say that's how I ran into my wife."
Running Theme at Wedding
"We were married just eight months later and will shortly celebrate our second wedding anniversary. The wedding had a bit of a running theme. After the ceremony we both changed into our running shoes and were joined by a number of the guests as we jogged more than a mile to the reception! We got a few funny looks, but it made that first pint all the more enjoyable."
"Sue's 'something borrowed' was a pair of her bridesmaid's running shorts and the wedding cake was a little bit different too. It had the bride and groom on top, but they were dressed in running gear instead of wedding outfits. We didn't tamper with the vows, although we do plan to grow old running together."
You might also like...