I Started Running in My 70s: A Case Study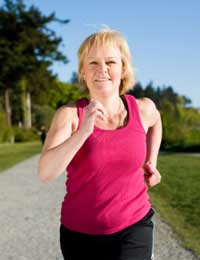 It is never too late to start running, as 74-year-old Ronnie Stevenson can testify. Ronnie, from South Yorkshire, celebrated his 70th birthday before taking up the sport, but is now a regular at 10-kilometre events.
"My grandson is a keen runner and it was his enthusiasm for running that made me decide to give it a go," explained Ronnie, a retired quantity surveyor. "I played rugby union and cricket when I was younger and I've been very keen on my gardening for a lot of years and that has kept me quite fit. I've never smoked and don't drink much, only the odd glass of wine or pint of beer."
Initially, Ronnie's family were not convinced it was a good idea for him to start running. "There were a few concerns," admitted Ronnie. "Obviously you have to be sensible about it, but providing you follow a healthy diet and take some simple precautionary steps, age is really no barrier to running."
Marathon Pensioner
"I remember reading about Dimitrion Yordanidis, who ran a marathon in the Athens in 1976 at the age of 98 – so I have plenty of running years ahead of me yet. In fact, it's not too unusual to be running at my age these days. Soon after I started training, I joined a local club and met three other chaps who are all past retirement age. Now we regularly go on training runs together."
Ronnie is not too strict with his training routine, because he believes running should always be fun and never feel like a chore. "I run the distance I want to at the pace I want to," said Ronnie. "If I miss a training session one day, for whatever reason, I don't try to make up for it the next day."
That is not to say Ronnie is not competitive. Since 2008 he has competed in 10 kilometre events. "My philosophy is straightforward," he said. "My first aim is to cover the distance and finish the race, my second is to do it in style and comfort and my third is to get a realistic time. If I can get a better time than my last race over the same distance then I'm happy."
Off-Road Running
"I try to run three to four times a week," said Ronnie. "I like to get out during the day and I run mainly off road, because the road can be quite punishing on my joints. I tend to be a fair-weather runner – it's no fun in the rain – and although I might have the odd ache it's worth it for the feeling of accomplishment I get after a run."
As for the future, Ronnie intends to set new targets for himself. "Most people my age find their times are getting slower and slower, but because I didn't start running until I was 70, my times are still improving, so I'd like to see how much I can improve."
"I plan to run my first half marathon later in the year and that will be quite a big step up in distance for me from the 10K. People often ask whether or not I intend to run a marathon and it is something I might consider if I enjoy the half marathon and do not find it too much of a struggle."
You might also like...