A Dietician's Guide to Eating for a Marathon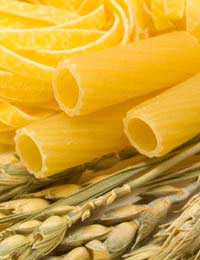 Huge amounts of energy are needed to train for and compete in a marathon. Fuelling the body in the right way will increase an athlete's chances of lasting the distance. Dietician Adam Porter has advice for those ready to tackle the 26 miles and 385 yards.
Question: How much energy does it take to run a marathon?
Answer: "It's not the same for everyone. It will depend on the athlete's experience, fitness level, pace and running economy, but in general marathon runners will average around 120 calories per mile."
Question: So what should a runner eat when preparing for a marathon?
Answer: "In a word, carbohydrates, but it's not quite as simple as that, unfortunately. When training, a marathon runner's diet should consist of around 65 per cent carbohydrates, 25 per cent protein and 10 per cent fat. Whole grain products, brown rice, pasta, cereal, potatoes, fruit and vegetables are all good sources of carbohydrates. As well as carbohydrate for energy and protein for muscles, the body needs vitamins and minerals to function properly. For instance, a lack of calcium and magnesium can result in muscle cramps. Also, it is vital for an endurance runner to drink plenty of water, both during training and the race itself."
Question: Why are carbohydrates so important?
Answer: "Carbohydrates fuel the body. They're the main energy source for working muscles and also help the body use fat more efficiently. Training for a marathon burns a lot of calories and carbohydrates account for around three-quarters of those calories. Carbohydrates are stored in the liver as glycogen, but the body can store only a small amount, so a diet high in carbohydrates is essential for marathon training."
Question: Are all carbohydrates the same?
Answer: "No. Some carbohydrates release energy quickly, while others give a slow, steady stream of energy."
Question: How do you tell which carbohydrates are which?
Answer: "The glycaemic index or GI measures the effects that carbohydrates have on blood glucose levels. Carbohydrates that break down quickly during digestion and release glucose rapidly into the bloodstream have a high GI, while carbohydrates that break down slowly and release glucose gradually into the bloodstream have a low GI. An athlete should eat low GI carbohydrates during training periods, as this will help keep blood glucose levels stable and allow longer training runs."
Question: What is a 'carbo-loading' diet?
Answer: "It's a diet that some runners follow before an endurance race. It increases carbohydrate stores and can improve performance and delay the onset of fatigue. It's only really suitable for serious athletes, so get advice from a qualified coach or sports nutritionist before trying it."
Question: How does carbo-loading work?
Answer: "The miles covered in training drops as the race approaches, and so does the calorie intake. As training runs get shorter in the week before the race, an athlete can reduce his carbohydrate intake. Then, when the race is just days away and training days have been replaced by rest days, he can load up on carbohydrates. This allows the body to store its maximum amount of carbohydrates."
Question: What should a runner eat on race day itself?
Answer: "Eat low GI carbohydrates on the morning of the race. High GI foods are better during the race, because they will release energy quickly and give an athlete a fast boost. Convenient high GI foods that can be eaten on the run include energy bars and sports drinks. Remember to drink plenty of water too."
You might also like...
Best quick guide on the net, simple and straight-forward advice
Celtic Bhoy
- 1-Apr-11 @ 8:44 PM