The Importance of Hydration for Running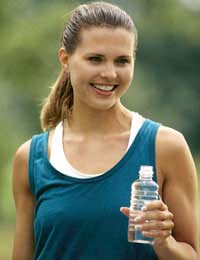 The area of hydration has come a very long way since the days when a plastic cup of water was all a runner could expect at one of the race-day refreshment posts. Manufacturers of sports drinks are keen to promote the benefits of their particular products both in terms of keeping runners healthy and improving their performance.
The more cynical would say that's all very well but principally these companies are in the business of making money rather than worrying about the health of those who use their products. In one sense, they are right. Manufacturers are indeed interested in the health of their end of year profit figures, but first of all, keeping customers healthy is good for business and secondly, developments in the field have driven improvements in terms of understanding how and when the body requires fluids, and this can only be good news for all athletes, whether amateur or professional. So don't be too quick to dismiss talk of electrolytes and sodium levels as simply marketing speak.
Less Efficient
However, you don't have to hold a sports science degree to understand the principles of hydration. Runners sweat, and that means they are losing salt, sugar and water. As the levels of these three decrease in the body, it understandably becomes less efficient. The more acute the deficiency is, the bigger the problem faced by the body. Indeed, de-hydration can reach dangerous levels. However, that is not going to happen as long as a sensible routine is put into practice based on regular fluid intake.
When do you need to drink? Well, the body has a little natural device to help remind you. It's called thirst. And on no account ignore it. Little and often is a better idea than taking on too much liquid at one time, not least because filling the stomach with liquid is never going to make you run any more efficiently, rather it is more likely to make you feel a little queasy. The amount of liquid you need will depend to a certain extent on the conditions in which you are running. Hotter and/or more humid conditions will mean you will sweat more, requiring additional intake, although in the winter months it should be remembered that additional layers such as a rain jacket will mean you may still be sweating significantly.
Healthy Levels
Both water and fruit juice are excellent in terms of fluid intake, and the latter also contains carbohydrates. Sports drinks are also a good source of both glucose (sugar) and those electrolytes referred to previously, which basically translates as potassium and sodium.
Always drink to healthy levels when not running and ensure fluid is available when you are training. Many high street stores and specialist websites offer a number of different pieces of equipment designed to make drinking on the move more efficient. It is very much a matter of choice. If in doubt, there is always the less sophisticated and cheaper option of simply taking a lightweight plastic bottle to hold as you run. But whichever option you decide on, ensure that you have sufficient liquid to last the duration of the run; in other words, longer distances require more fluid.
Paying attention to hydration will definitely ensure you maintain a healthy balance and perform to your maximum potential. And that's not marketing speak, either; merely commonsense.
You might also like...