What is Fartlek?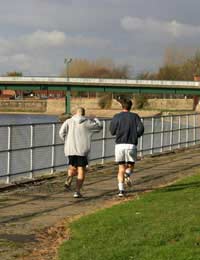 Remember how you began your running career by taking increasingly long walks before graduating to jogging? The process was all about re-introducing your body to physical exercise and building up its ability to cope. Well, now that you are running regularly over distance and at a nice, steady, pace, your body will have found a new comfort zone. So, time to shake it out of its complacency via a new challenge. Welcome to the discipline known as Fartlek.
Strange name? Well, it originated in Sweden in the first half of the last century, the word roughly translating as speed play. In fact this translation is a perfect description of the discipline as it involves breaking out of your normal stride pattern, upping the pace for a set distance or time, then slowing down in order to allow your body to regain the rhythm of your regular running rate.
Pace and Rhythm
Not only will the discipline break up the monotony of a regular training run, but it has other bonuses, too. For a start, it will improve your endurance and strength. It will begin to develop your ability to run at speed, too. These benefits in themselves will aid your development as a runner, but there will be an even bigger dividend should your aim be to move onto the next level and begin to compete against other runners.
In a competitive environment, that steady pace and rhythm is only going to get you so far; you'll have to learn to react both physically and psychologically to "attacks" by other runners, particularly over the last mile of an event, that can mean the difference between a respectable finish and perhaps even crossing the line ahead of the rest of the field.
Incorporating Fartlek into your regular schedule can be achieved by booking sessions with a personal trainer. Not only will they be able to suggest how to approach the technique, but they will be able to offer emotional support during the early stages.
The Principle is Simple
However, there is no reason why you can't slip on your shoes and begin right away because the principle is simple. Let's, say, that you pass a bright red postbox on your regular run. When you estimate you are about 100-200 metres from the box, up your pace, pump those arms and place extra pressure on your cardiovascular system to reach it in double quick time. As you pass the box, slow your pace steadily down to a jog while your body recovers back to its normal running rate. Further on in the run, choose another landmark – for example, a telegraph pole or an information sign – and repeat your earlier speed exercise over the same distance.
It is up to you how many of these speed sections you introduce into your run. Start off with two and build up from there. It won't be long before you are feeling the physical benefits as well as enjoying the greater variety that you have built into your regime. In short, Fartlek has brought the fun back into your running.
You might also like...