Tackling Hills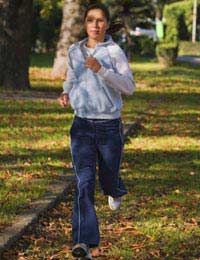 Runners in the first few months of their new exercise regime will feel that they are coming along nicely, adding a little more distance at a time to their route, even upping the pace a touch as their ability increases. By now, they will developed a nice rhythm which they can slip into that offers something of a comfort zone.
That particular zone is one which all runners like to escape to from time to time, particularly if mental discipline is proving a problem on a particular day. However, it can also impede progress, either by discouraging a leap to the next level or resulting in boredom from the perception that the regime has become all too easy and, therefore, rather stale.
Should the negative aspects of the comfort zone become a problem, introducing some hill work is the ideal solution.
Gradient-Free Conditions
Many runners prefer the relatively gradient-free conditions of road and park tracks specifically because hills represent an altogether different challenge, but take time to embrace the exhilaration of going up in the world and the benefits will be all too obvious. You don't even have to be too ambitious. Just alter your route to embrace one or two gradients and build from there.
How will it improve your running? Well, for a start greater stress will be placed on your cardiovascular system, so your heart and lungs are going to receive a more intense workout and become more efficient. Then there are those pumping leg muscles which are going to have to take a little more pain in order to reap a considerable gain.Don't dismiss the mental side of hill running. Remember why you avoided them in the first place? Because you were afraid of the extra strain they would place on your body.
Race Discipline
Once you have conquered that fear, you will embrace the extra challenge. If you are planning to try a competitive race discipline such as cross-country, then conquering that fear of hills is doubly important as it is likely the race organisers will have thrown some into the mix to separate the best runners from the also-rans. You don't want to confront a steep gradient for the first time under competition conditions as it is likely to destroy any chance you had of making a good impression.
As with all aspects of your regime, the key is building up slowly, so initially look for some gently inclines rather than steep hills. Give your body the time to adapt and it will deliver the results you are looking for. As well as building hills into your regular running route, think about some separate hill sessions that involve running up and down over a set number of repetitions.
Plan sensibly and it won't be long before you look upon an approaching incline as a challenge rather than something to be avoided at all costs. You'll feel fitter and more confident, too. Remember also that any pain on the way up will be compensated for by the exhilaration of the descent on the other side.
You might also like...