Winter Weather Training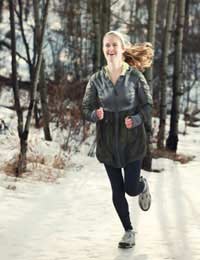 Planning ahead and using your commonsense – that's all it takes to ensure your winter fitness schedule doesn't succumb to the worst that the weather can throw at you. After all, there will be more than enough people – many of them tabloid newspaper editors - melodramatically declaring the end of the world at the first sign of the white stuff. So, rather than panic when the snow falls, ensure that you have measures in place to keep your stamina and fitness at the correct levels.
The rather obvious point about snow is that it will prevent you following your regular outside route. An inch or two is hardly conducive to maintaining a normal pace and ensuring good footfall. When sub-zero temperatures overnight result in an icy crust over the powder, conditions become dangerous, so don't even think about risking it – a sore back or a mild bump on the head may be the least that you can expect to escape with from a fall.
The solution is to switch your programme to the gym, taking advantage of the cardiovascular machines to maintain your levels. While you are there, contemplate approaching one of the trainers to draw up a short series of weights that will complement your existing work and also relieve the tedium of indoor running.
Stick to what you know
Remember to tailor the programme settings on the machines to the stage of fitness you currently enjoy – there's always the temptation to push a little harder but in what is a relatively alien environment it is best to stick to what you know. If you are unsure about the machine settings, speak to a trainer, give them a brief rundown of your normal routine and they should be able to match your requirements with such parameters as speed and gradient, or perhaps pick out one of the performance-specific programmes that top-of-the-range machines incorporate.
Of course, winter doesn't always spell hazardous conditions. There may simply be the more commonplace enemies of the runner – rain, wind and cold. Even the hardiest, most dedicated are not immune to looking out of the window and shivering at the thought of the battering from the elements that awaits them when they step out of the door. Thankfully, the right equipment is all you need to dispel any temptation to put your feet up and forget about the day's session.
Wicking effect
Every runner should have a rain jacket, sweatshirt, waterproof fitted pants, gloves and a woolly hat in their locker. These should be supplemented by a Lycra running shirt manufactured from material that wicks perspiration away from the skin, because although you will initially feel the cold and be glad of the extra layers when you start out, once you get up to your regular pace, your body will quickly heat up. The extra layers will mean it is more difficult for the perspiration to evaporate, leading to wetness and eventually chaffing as it lies on the surface of the skin - this is where the wicking effect from the base layer will help you stay dry.
Sunglasses are another important item. No, don't laugh. Clear skies often give winter sunshine, which can be blinding because it appears much lower in the sky – a phenomenon resulting from the tilt of the earth. This represents a potential danger, especially when negotiating areas with street traffic. Vision is crucial to your well-being, so don't compromise.
So planning ahead – ensuring you have access to indoor facilities and the correct running gear – coupled with commonsense – don't be tempted to try your luck when it's treacherous underfoot – are all you need to get you through the winter and into the welcoming arms of springtime safe and sound, and bang on schedule in terms of your running goals.
RUNNING FOR FUN IS FOR SALE.
This website is for sale [more info].
You might also like...