Running Injuries: Prevention is Better than Cure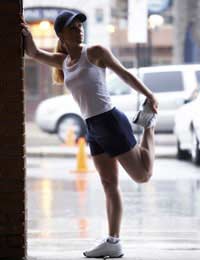 No-one wants to spend hours waiting in accident and emergency or writing cheques for private physios, but that could be the fate awaiting the runner who dashes headlong into an exercise regime without preparing properly, or ignoring the parameters that have been set, in order to prevent the very fate that has now befallen them: namely, sitting with one leg supported on a chair or hobbling around crutches.
A great many injuries that occur to people involved in running are the result of their own stupid fault. Sounds a bit harsh? Well, no one likes to see others suffer, but there are occasions when you have to be blunt.
Fully Flexed and Warmed Up
So let's run through a few commonsense suggestions that are likely to spare you the tea and sympathy. The most important rule is not to forget to complete your stretching exercises both before and after exercise. This is, perhaps, the single most effective preventative measure. On occasions, even professional sportsmen have been known to fall victim to their own arrogance in this respect, pulling up with a sharp pain in the back of the thigh because they did not ensure their hamstrings were fully flexed and warmed up. If you do injure your hamstrings, you could be looking at weeks or even months without being able to run - and all because you didn't spend a few minutes putting them through their paces. The Achilles tendon is a similarly vulnerable part of the anatomy in this respect. And failing to stretch it properly can be equally as devastating as the hamstring.
Preventative measures should also take account of your running shoes. In short, you simply can't allow your knees to take the physical hammering that will be the result of not having the cushion provided by a good-quality pair of shoes. Physios see many cases of so-called "runner's knee" every year, and a great many of them can be traced to incorrect footwear.
Maintenance Checks
Always ensure that the surface you are running on is safe and secure. For those using a reputable gym, this will be no problem as maintenance checks will be standard. If, however, your equipment is home-based, do not forget about the aforementioned checks, and before buying, ask the retailer or the manufacturer as to whether service is included in the guarantee and, if not, whether there is a recommended engineer in your area who can carry out maintenance. Running regularly on a treadmill means the mechanism is going to take a pounding, so it is essential you can be confident of your own safety every time you mount it.
You have to be equally confident of what's underfoot when running outside, too. During the winter months, check the pavements if there has been an overnight frost or recent snow, and if there is any hint of slippiness, either opt for the treadmill in the gym, or take the day off. The streets will still be there tomorrow, but there is the remote chance you won't be. Losing your balance at speed on an icy surface at best could leave you with a broken wrist as you put out an arm to save yourself, or a nasty bruise to the shoulder. The same is true for uneven surfaces, perhaps because of a loose paving stone that could result in a nasty ankle sprain.
You might also like...