Where to Find Advice and Help for Running Injuries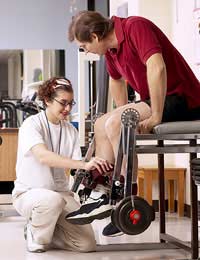 The first rule of sports injuries is: don't suffer in silence. It is very tempting to put your trust in the natural healing processes that your body possesses and wait for them to take their course. Unfortunately this is not always advisable, firstly because you may not be fully aware of either the specifics of the injury and how serious it is, or what the best treatment is. Simply keeping the weight off it for a week may not be enough.
If an injury is serious, and you probably won't need several years at medical school to mistake the intense pain for anything else, then take prompt action and head for the accident and emergency department. Remember, you're injured. Some doctors may adopt the attitude that any sports injury is the result of stupidity, but stress the need for treatment. The lecture on finding a more genteel pursuit can wait.
Less serious problems can be referred to your local surgery. Again don't be worried that you are wasting the doctor's valuable time. The health service is very keen to promote healthy living and regular exercise, so it shouldn't shake its head in disapproval when the occasional mishap occurs.
Preventative Measures
Depending on the seriousness of the injury, you may be referred to either a specialist sports doctor or a physiotherapist. If it's the specialist, then it is likely the injury is of a more serious nature. It doesn't point necessarily to surgery, but specific anti-inflammatories and perhaps the fitment of a support such as a knee brace may be required. For less serious injuries and follow-up after a consultation with the specialist, the physio will come into play. He or she is there to oversee the maximum recovery of the bone, muscle or tendon. As such they will have a specific programme in mind which is likely to involve sessions both of a hands-on nature in the surgery and others to be completed by the patient themselves at home. They will also be able to advise on what to do and what not to do, and ensure that you don't try to restart your exercise regime too quickly. The physio is also a good reference point in terms of preventative measures to ensure you are not knocking on their door with increasing frequency.
Personal Recommendations
Many running clubs and gyms will have contact details for a specific practitioner or at the very least a list of those who have practices situated locally. Ask around the locker room as this can be a valuable source in terms of personal recommendations.Some physio sessions may be available free of charge through the health authority, while others, along with consultations with specialist sports doctors, may have to be booked on a private basis. Not surprisingly, this type of treatment can be expensive, so it may be wise to take out some private medical insurance to cover incidents of injury. Those already holding this type of policy should check to see what they are covered for.
However, while you can't put too high a price on health, many people are simply not in a position to be able to afford this type of professional help. So it is always advisable to talk through any potential programme of treatment together with your personal circumstances at the local surgery with a doctor. Their advice can be both useful and comforting.
You might also like...