Different Training Routines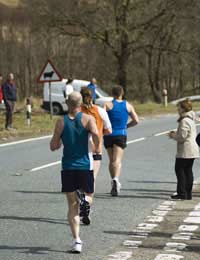 Once you have got over the initial fear of building an exercise routine into your life, the next decision involves deciding where you want to take the new-found fitness that you are building. It may be that both mind and body are benefiting from a steady programme that aims to peak at around the six-mile mark, with shorter two- to three-mile jogs built around your weekly domestic or professional schedule. That is as far as you want to take it in terms of strength and endurance.
At the other end of the scale are those who want to try competitive races and become more intensely involved in running club activities and events. For them, the schedule is going to be more involved and more carefully planned to promote steady and consistent development.
However, simply because you don't want to push your body too much out of the comfort zone doesn't mean that you can't add some variety to your programme in order to prevent staleness dulling your motivation. Speed work training, such as the Fartlek method discussed in a separate section, is one in which a routine run can be pepped up by including short, sharp injections of pace over a distance of around 100-200m before slowing down to allow the body to settle back into its normal running rhythm.
Allowing the Body to Retain its Equilibrium
Another type of speed work involves choosing a set distance or time and running as fast as possible, stopping, allowing the body to retain its equilibrium, then repeating the process a set number of times. This regime will help your body become stronger as well as giving the cardiovascular system the opportunity to experience the next level of fitness.
Tempo running is another option. By now you should be able to run at a controlled, pace while having the ability to hold a conversation. Taking the cardiovascular system out of this comfort zone involves, not surprisingly, upping the speed of your run a notch or two to make the heart and lungs work harder. Begin tempo training over a course about a quarter of the length of your regular run and build up until you have reached half that distance. As your body steps up to the plate and becomes more efficient, up the pace slightly rather than increasing the distance any more.
Stamina and Endurance
By contrast, slowing the pace and running over a greater distance than normal builds both stamina and endurance. It is also likely that your muscles will exhibit a few aches and pains to let you know that you've gone further than they are used to. As a result, ensure that you build a good rest period into your routine to take account of this and allow your body adequate time to recover.
Finally, there is the option of doing some hill work. Again, this is covered in more detail in a separate section. Suffice to say, conquering your fear of tackling gradients is not only a confidence booster, but it also builds both strength and cardiovascular efficiency.
Whichever routines you decide to build into your schedule, or even if you are happy with your regular run, always remember that you've got to enjoy what you are doing. Once exercise becomes a chore, motivation can suffer, and all that good work is in danger of going to waste.
You might also like...