Is it a Good Idea to Take My Dog for a Jog?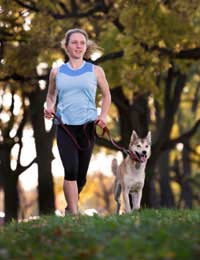 Dovetailing work commitments with a regular running schedule can be difficult enough, but there is the added headache for dog owners of ensuring the family pet isn't neglected in the process. It is all too easy to allocate what was previously Rover time in the evening to one's own schedule, leaving a forlorn four-legged companion at the front door with its lead hanging from its mouth.
A great deal of responsibility comes with owning a dog, and for those living in urban areas, without the luxury of large stretches of grassland on their doorstep that allow a dog to roam free, building a daily walk into the schedule is essential. Otherwise the same health issues risked by sedentary humans can afflict a dog.
If time allows, walking the dog after a session can be beneficial in supplementing stretching exercises by offering the muscle groups the opportunity to wind down naturally. But of course time doesn't always allow, and the temptation to jump into the shower rather than head off out again with the dog is likely to loom large.
Dark winter nights
This is why making the dog your regular running companion, or at least on weekdays when time is tight, is the ideal solution. There is also the added bonus on dark winter nights of having a companion that is likely to make even the bravest mugger turn tail.
There are one or two adjustments you are going to have to make before heading out. Firstly, you will have to forget about using your regular route if it involves crossing major or minor roads – the dog will be running ahead of you, and will not be taking the same care in terms of looking for traffic before crossing that you would. Instead, a route around the local park will ensure you can both exercise in comparative safety.
Fitness ticking over
Secondly, think about your pace. You are not going to be able to push it too much, unless that is you want to be dragging the poor animal behind you. So allocate your dog days as those when your aim is simply to keep your fitness ticking over. The same principle applies to distance – a couple of miles is all that is needed to keep the dog happy and healthy.
In terms of equipment, the one crucial investment is a specialist running lead which eliminates the less than clever option of running with one hand controlling the dog. Not only is the latter option dangerous because you are running the risk of losing your grip and seeing the dog go scampering off to enjoy the newfound freedom, but the weight pulling on one side of your body will hardly be conducive towards promoting good balance and posture. Running leads, many of which retail for less than £20, attach around the waist and are usually elasticated to cushion the owner against the animal pulling on it.
Remember before you leave the house to take sufficient liquids to allow both of you to hydrate - simply squeeze some of the contents of your bottle into the dog's mouth from a safe distance– and be sympathetic to the odd call of nature that the animal may decide on when it sees a suitable lamp-post.
You might also like...