Countryside Safety Code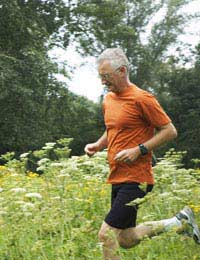 The relative comfort and safety of running around the local streets or park is a million miles away from the conditions faced by more intrepid adventurers involved in, say, fell running or orienteering. For them, it's not just about testing strength, stamina or how fast a distance can be covered; it's as much about interacting with the element and sometimes taking on the worst that the weather can throw at them.
There is no doubt that running in rural areas can be exhilarating as well as exciting, sometimes awe inspiring if the route bypasses any peaks. But while the natural habitat may add a whole new dimension to the exercise regime, it also throws up some challenges.
For a start, there are those aforementioned weather conditions that can change quicker than many "townies" would imagine. One minute you are negotiating a track beneath blue skies, the next, the wind is picking up and ominous dark clouds are gathering. From worrying about whether you have layered on enough cream to protect yourself from sunburn, you now have to contend with a sudden drop in temperature and a distinctly icy wind around your shoulders.
Rocky or Muddy Paths
Then there is the matter of the running surface. There's none of the reassurance that well Tarmaced city streets offer in terms of stability. Depending upon the terrain, you may have to contend with anything from rocky or muddy paths, to brambles, fallen tree trunks and streams along your route.
What about keeping in touch, too? Should you have a mishap or find that your running partner has drifted off the pace and lost touch, re-establishing contact may not be as simple as dialling a number on the mobile phone on your arm-strap. Given the terrain, it may be that a signal is hard to secure; worse still, your chosen network operator may not cover the area in which you find yourself – so be sure to check network coverage.
Estimated Time of Arrival
The good news is that insurance against all the above problems is simple to secure; and it is all based around using your commonsense. For example, carry an extra layer or pack-away rain jacket to guard against deteriorating weather conditions. When it comes to the running conditions underfoot, always wear the shoes that are designed specifically for a particular discipline. Road shoes, for example, do not have a sole that can cope with stony tracks, or uppers that can withstand a soaking from a stream, so invest in the right equipment. In terms of communication, supplement the mobile phone with a distress whistle, and always ensure you have left the details of your route and estimated time of arrival with a third-party who can raise the alarm should you significantly over-run your ETA.
Equipment such as extra layers and that all important water bottle can be stored in a lightweight backpack, so invest in one. Some items of first aid should also be included in the checklist you should complete before setting off. This checklist will offer peace of mind; allied to an efficient use of commonsense, it will mean that you are free to relax and enjoy your run and the beauty of the surrounding scenery.
You might also like...
Is it safe running in the country alone as a young female?
Liveforruns
- 28-Dec-17 @ 7:17 PM