Running Holidays and Destinations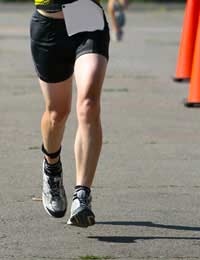 The Chicago marathon attracts around 40,000 competitors and, according to the organisers, provides runners of all abilities with a scenic tour of one of the world's great cities. If competing on the shores of the Great Lakes doesn't grab you, how about New York City? If you're fed up with street life, then why not try running through one of France's great wine-growing regions?
All the above are examples from just one site that provides runners with the chance to broaden their horizons. Tap a few destinations into a search engine and you'll discover that the sport has gone global. You may have taken your first faltering steps around the local park, but now operators are offering the chance to tackle tough trail courses in Europe, or rise to the challenge of a mountainous landscape. Across the Mediterranean, the roads out of Marrakech will lead you into some of Morocco's most testing terrain. Further afield there are the more extreme challenges of Namibia and Costa Rica.
Highlands of Scotland
A similar extreme experience awaits those who take on the Laugavegur course in Iceland, while closer to home in the UK, Snowdonia and the Highlands of Scotland are just two areas of natural beauty guaranteed to blow away the cobwebs of modern life as you clock up the miles.
Not only are packages and destinations many and varied, but they also provide opportunities for runners of all abilities. The big city marathons, for example, have never just been about the elite athletes. Indeed it is the so-called "fun runners" who represent the real heart of these events. Similarly, other race and training camp packages are designed to be inclusive so that nobody is left behind or feels that they are under an undue amount of pressure to perform to a certain level.
Of course, the more extreme events should be left to those who have both the physical and mental stamina to handle them; otherwise there is a world of choice for people who just want to enjoy the sport in different surroundings.
Social aspect
Not only will runners benefit from their new environment but they will also be among new friends. This social aspect is important because at home you may be completing solo runs. But surrounded by fellow enthusiasts you will benefit both from their support and advice. This, in turn, may persuade you when you return that it may be time to join a running club which can offer a similar support network closer to home.
Having booked a package, remember some practical considerations. For example, if you will be running in a climate warmer or colder than what you are used to, pack your bag with appropriate running gear. And don't forget to make allowances for the change in temperature with regard to performance. Don't push yourself too hard or your body might make its feelings plain through fatigue and muscular pain. You want to return physically and mentally refreshed.
And remember to have fun rather than look to break any records. Although if you are planning to join the pack around the streets of Manhattan or across the Chicago skyline, save the window shopping until the race is over.
You might also like...