Fell Running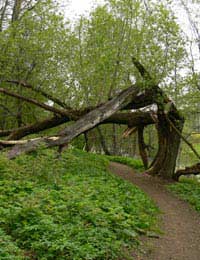 Long distance runners need to be mentally as well as physically fit, to be able to stay self-contained and focus on the job at hand. However, this must be a difficult task for fell runners simply because of the areas of natural beauty that form the courses that they compete over. Anyone who has visited the Lake District, the home of many such events, or the Yorkshire Dales National Park that plays host to the world famous Three Peaks, will tell you that the remote nature of these places is all part of the attraction. For those who have to contend with traffic noise and supermarket aisles on a regular basis, the contrast could not be more striking, or seductive.
So fell running offers a fantastic means of escaping the worst aspects of 21st-century life. Of course it also provides a big challenge for runners who feel cross country is no longer giving them the buzz that they require.
Where to Start?
Where to start fell running? If you are already a member of your local running club, it may be that this discipline is already on their agenda. Failing that, check with other clubs in your area or contact the UK-based Fell Runners Association (http://www.fellrunner.org.uk), which will be able to point you in the right direction. The association's site includes details of national and international events, giving an indication of the popularity of the sport and the serious approach taken to it by devotees.
In terms of equipment, special fell running shoes are essential because they will not only be specifically designed to give good grip in a range of conditions but the uppers will have waterproof characteristics and be robust enough to resist rough surfaces that would otherwise lead to tearing of the material.
The weather conditions will determine the number of upper-body layers to be worn, while a rain jacket is very likely to come in handy. Gloves, too, will protect against the worst the elements can throw at you. The same is true of a lightweight running hat.
Given the remote nature of many courses, safety considerations mean a distress whistle should be carried by every competitor, along with emergency rations, a water bottle, and a map and compass should they lose their way. On no account let the natural beauty seduce you into thinking the countryside is benign – problems can arise, so it is better to be well prepared for all eventualities.
Tackling Fells
When it comes to training for tackling fells, it should go without saying that some work on hills is absolutely essential. The same is true of terrain – you won't be tackling smooth, even surfaces, and you will need the ability to change pace, stride pattern and make sudden adjustments, for example to hop over a small rock, quickly and efficiently.
Be aware of your limitations and only take on the challenge of a fell run when you know you are ready for it.
In return for the hard work of training for an event, you will find that running fells is a world away from where you started your fitness regime. The discipline will take you out of your comfort zone, but it will also transport you to areas of natural beauty you probably weren't aware of.
You might also like...