Get the Whole Family up to Speed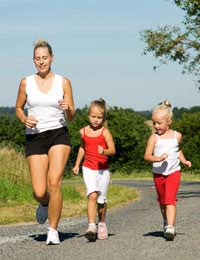 The organisers of the London marathon are again involved in promoting the health of young people and emphasising the positive effects of sport, this year by holding a Mini Marathon on the same day as the main event in April.
The junior version of the great race will see 2,500 competitors aged 11-17 take on the final three miles of the senior course, and cross the same finishing line as some of the most illustrious names in distance running. It follows on from the 2005 Family Marathon, the distance of 26 miles covered by family groups of up to six people, aged 5- 95, over a five-week period.Organised events provide a focus for those following a running routine; for children, in particular, they add an extra layer of fun to the proceedings that will further stimulate their interest. It doesn't have to be something as serious as a marathon, though – a lighthearted festive challenge such as a Santa run is equally effective in offering healthy exercise for the whole family.
Valuable Bonding Time
Health isn't the only reason why getting the whole family running is a good idea. Those who take up the sport often find it isolating, particularly if training is putting added child-care pressure on a partner or eating in to valuable bonding time with the children. However, making the regime inclusive rather than something that takes you away from the family can only be beneficial for both yourself and everyone else at home. No longer is an outing with mum and dad restricted to an unhealthy trip down to the local shopping mall at the weekend, everyone squeezing into the family car for both the journey there and back. Instead, shake the cobwebs out of everyone's limbs and run as a group. If mum or dad prepares some lunch that fits into a backpack, there is the promise of fresh air and a picnic lunch that will get everyone interested.
Healthy Competition
Children like nothing better than a little healthy competition, too. So why not set some hill challenges, a rudimentary half-mile course or 100-metre dash that will have junior members itching to put one over their parents. Suddenly what seemed like an oh so boring Sunday promising nothing more than mud, sweat and tears will have flown by, everyone will have had fun and improved their fitness, all at the same time.
If that competitive edge needs sharpening a little more, it is likely that your local running club will cater for families, offering both group activities as well as the opportunity for individuals of all generations to improve and test their fitness against others of a similar age.The initial goal when putting on a pair of running shoes may have been the benefits for your own health, but going the extra mile and encouraging the rest of the family means that not only can you forget all those clichés about running be a sport for loners, but you will have the satisfaction of knowing that you are helping your own children get on the right track to enjoying a happier and healthier lifestyle.
You might also like...